T'ien Bao


Information
Full Name
T'ien Bao
Gender
Male
Race
Human
Class
Tactical Officer
Rank
Lieutenant Commander
Fleet Rank
Lieutenant Commander
Fleet Position
{{{fleetposition}}}
Ship(s)
USS Emissary
Player
Savesh
Family Name: T'ien
First Name: Bao
Current Assignment: Chief of Security, USS Emissary


Academic History and Distinctions/Service Record:
Attended Starfleet Academy.
Chose specializations in mediation and conflict resolution while at the academy.
Raised and educated in a Shaolin Temple in China.
Has achieved highest ratings in several unarmed martial arts styles, most notably Kung Fu.
Documented expert in several exotic weapons styles from many cultures, both terran and extra terrestrial
Favored weapon is the staff and unarmed combat.
Led student groups in meditation, self-defense, and holistic medicinal techniques while at the academy.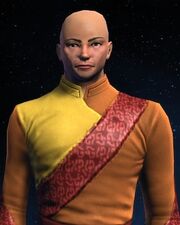 Brief Biography:
"When I am forced to use violence to resolve a conflict, I have already failed."
An orphan of Starfleet parents, Lt Cmdr. T'ien was raised in a Shaolin monastery in the heart of mainland China. With a perpetually serene nature, he is as much an expert in conflict resolution as he is in unarmed and exotic weapon combat.