Zithendelara Mikhenissel Kincaid d'el Melias
General Information
Edit
Species: Melian
Age: 44 Standard years
Gender: Female
Class: Warrior and Learner
Known aliases: Zra (common name), Wanderer Beyond
Zithendelara Mikhenissel Kincaid d'el Melias, also and more commonly known simply as "Zra" is the first Melian ever to leave her solar system, Mel. She is a former member of the ACI and the original fleet librarian.
Pre-Starfleet Career
Edit
As First Beak of her clutch, Zra was predestined to become a Warrior, and began her training at around one and a half standard years, eventually graduating with honours from the Military Academy at age eighteen, and taking her first command.
She reached the Earth-equivalent rank of Lt. Col. by the time she was 24, then the USS Intrepid Explorer made First Contact with Mel.
When the Council of Elders finally decided, after lengthy deliberations, to send an Envoy to the Federation, her military prowess, exemplary service record, utter fearlessness, emotional poise, and pragmatic attitude made her a prime candidate for the position. Her mother's standing in the Council, and her considerable political clout, ensured that Zra got the job.
Going Beyond the Veil
Edit
After being trained as a Learner (helped by her natural curiosity), she was sent to the Federation on the USS Beyond the Veil, a refitted Light Cruiser, there to join the ranks of Starfleet as a starting point for her mission: to learn as much as she could about the workings of the Federation, and report her findings back to the Council, so that an eventual decision could be reached on whether Mel would join the Federation or not.
Early Career
Edit
Zra's early career in Starfleet was ordinary enough, completing patrol missions and some light exploration in and around the Sirius sector block. During that period, she met Captain Kincaid, who introduced her to the ACI.
Joining the Institute
Edit
Zra quickly discovered that the Institute was the perfect place for her and her mission: with its focus on science and exploration, the ACI provided her with a wealth of information it would otherwise have been laborious, otiose even, to obtain. Also, the other members of the Institute gave her a much-needed social circle, accepting as they were of aliens all and sundry, remedying an increasing loneliness and homesickness that she hadn't realised until then had been with her from the start.
Writing Home
Edit
Zra has been filing regular reports for the Council, detailing her findings, explorations, and her views on the Federation and its member species. The Council reciprocated by sending her news from home, supplemented by little bulletins from her Clan and family.
Increasingly, however, Zra had felt distanced from these events back home, as her accommodation in the Fleet and the Institute increased.
A number of events came to pass that would gradually but inexorably shift Zra's perceptions of who she was, and her attitude to her mission, the Council, and indeed every other aspect of her life.
Shifting Perspectives
Edit
Over the weeks and months of her mission beyond the Veil, Zra had been feeling increasingly homesick. Also, the Federation's attitudes and, in particular the Institute's, had begun to create conflicts within her, conflicts she felt unable to resolve by herself, yet unable to speak about to a non-Melian.
The news that her reports had leaked out, in part at least, into the Melian mainstream, and had been romanticised and serialised into an entertainment show, Tales of the Wanderer Beyond, apart from making her absolutely furious, increased her estrangement from home and her internal conflicts. She felt used, abused even, and powerless to do anything about it.
To compound this, the quasi-simultaneous arrival of an Edict of Exile from the Council, as well as the gift of a Melian male, further confused and destabilised Zra: on the one hand, she was not to be allowed home until, at the earliest, the Council had decided to join the Federation (and if that decision came out negatively, ever), on the other hand, the Council were pleased with her progress and her reports, so much so that they gifted her the male; higher praise could hardly have been bestowed upon her at a distance.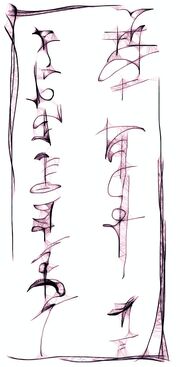 As with all gifts made for political reasons however, this one came with strings attached: Zra was to reproduce, but then send her offspring back to Mel, to be raised there by her Clan. Zra had, by then "gone native" sufficiently for this not to be an easy order to comply with. In fact, she felt unable to accede to the Council's "request", yet also unable to disobey a direct order — her devotion to Duty was too ingrained in her for that.
So the male was sequestered on board the Songs of Steel's sickbay, until she could decide what to do. But the male had already been exposed to "his" female, and began to emit his pheromones, triggering Zra's own mating cycle. Within days, as the pheromones spread through the ship's ventilation systems, she was with egg, and completing the cycle became an ever-more pressing concern: until it was done, the pheromones would drive Zra increasingly mad, until the mating imperative took over.
Fortunately, Dr Brill, the ACI's ob/gyn specialist, was able to help and devised a medication that would counteract or slow down the effects of the pheromones to some extent, as well as slowing down the development of her eggs. It was only a stopgap measure, however, and Zra was still no closer to resolving her conflict.
During this whole period, she had been seeing more and more of Captain Kincaid, whom she considered first her only, then her closest, friend. As he helped her talk through what was bothering her, and lent her his support in her troubled times, they became ever closer, until a strange thing happened: the Vulcan part of Kincaid, and Zra's vulnerability, combined into some sort of bond, and they became lovers. It took Jacob Kincaid quite some time and soul-searching, but he finally offered to be Zra's partner, accepting her children if she were to go through with the insemination by the male.
In the end, Zra could neither wait nor resist, and had Dr Lynch, the Songs' CMO, perform the artificial insemination, ensuring in the process that the Melian male was allowed to decease painlessly and humanely, fertilising Zra's five eggs.
Current Events
Edit
Placed on medical leave until further notice by Dr Lynch, Zra spends most of her time aboard the Songs, collecting and compiling information for the ACI's Library, and waiting to lay her clutch. Kincaid drops by whenever his duties allow, and she tries to stay in communication with the rest of the Institute as best she can, but she feels bored a lot of the time nonetheless.
((Melian male episode missing))
On Stardate 88330.40, Zra's First Clutch hatched, with three daughters and two male offspring:
First Beak Alexandra Zithendelara Mikhenissel Marinachesis Karediel Lina Farelis Morinar Aela Dinerawa Fediel Gar'al Laeniel Kincaid d'el Melias
Helena Zithendelara Mikhenissel Marinachesis Karediel Lina Farelis Morinar Aela Dinerawa Fediel Gar'al Laeniel Kincaid d'el Melias
Elizabeth Zithendelara Mikhenissel Marinachesis Karediel Lina Farelis Morinar Aela Dinerawa Fediel Gar'al Laeniel Kincaid d'el Melias
Present at the Hatching was Captain Jacob Kincaid, the girls' adoptive father.

A section of the medical bay of the USS Alexandria was converted into a temporary nursery, until more appropriate facilities could be arranged.
Related Articles
Edit